Welcome to Papakura Tennis & Squash Club
COVID-19 Club Update for Alert Level 2
Hello All.
We hope that you, your family and friends have been keeping safe and well during the lockdown.
This evening, we are announcing that the Papakura Tennis and Squash Club will be reopening in a limited capacity, from 12pm on Thursday the 14th of May. We understand your desire to get back on the courts and you can rest assured that the executive team are working hard to ensure that this can happen in a safe and managed way.  When you return to the club there are a number of requirements that need to be met, these are set by the New Zealand Government, Tennis & Squash New Zealand, and the Papakura Tennis & Squash Executive Committee.  These are to ensure that Tennis, Squash, and the Papakura Tennis & Squash Club are not the reason the country is require to raise lock down levels.
We understand that there are quite a few requirements listed below, however, please ensure that you read through and understand them as we need to maintain a safe environment for all members and ensure that we are mindful that everyone has a fair chance to play. We will be externally audited and regular spot checks will be carried out to ensure that members and the club are following the guidelines and requirements. Remember we are still at level 2 and that social distancing is still necessary around people you are not familiar with.
NOTE: Courts will be professionally cleaned at the beginning of each day.
Rules & Guidelines
The Papakura Tennis & Squash Club is open to members only.
If you are not feeling well in anyway, please don't come down to the club until you are back to 100% fitness.
You must sign the contact tracing register on entry to the club.
Before you sign the register, clean your hands with the provided hand sanitiser.
Do not move any equipment from sanitising stations.
All games must be booked online. Booking link: http://www.booking.papakurasquash.co.nz/index.php
No one is to turn up at the club without a booking and expect to play.
Book courts while thinking about others, E.G. keep consecutive booking for courts on consecutive days / nights to a minimum.
Turn up on time, play your game and then leave the court when your time is up. Do not wait for someone to bang on the door before you leave the court.
Clean your hands with the provided sanitiser before entering the court.
Do not wipe your hands on the court walls.
Wipe down the door handles with the provided wipes when leaving the courts.
Do not hang around in the hallways and change rooms.
Do not leave your towels and sweat bands or playing equipment laying around or hanging on fixed objects while you are on or off the court. Use them and the place back in your bags immediately after use.
Do not move any of the signage around the club.
BYO water and non-alcoholic drinks are allowed.
No BYO Alcohol is permitted at any time or for any purpose. DO NOT RISK OUR LICENSE  
Play your game and then leave the club.
Keep your showers to 4 minutes (we have a water shortage in Auckland).
No visitors or extended family are permitted to play or watch games.
The entire upstairs area (including the bar) is closed to everyone.
Anyone found to be breaking the rules and / or not following the guidelines will have their access revoked for the entirety of Level 2.
During the game
Don't touch your eyes, nose or mouth during the game.
If you must, cough or sneeze do so into your elbow.
Avoid personal contact, don't make body to body contact at all if this can be avoided.
For squash, think about the application of a let call possibly more often than normal to keep a suitable distance.
Do NOT wipe your hands/arms on the court walls, nets or any other surfaces.
Do NOT share towels or drink bottles.
We encourage players to exchange "good game" verbal appreciation only. Shaking hands, touching elbows/rackets are not recommended.
If you see any members not following the following the rules and guidelines you should contact the Papakura Tennis & Squash Executive Team immediately by using the details below.
If you are feeling unwell or showing any of the symptoms of COVID 19, please call Healthline on 0800 358 5453 and notify the Papakura Tennis & Squash Exec Team by calling either of the numbers or via the email below.
 Contact Information
Jason Browne – President – 027 440 7426
Bryce Gosnell – Vice President – 021443349
The Executive team will review our plan regularly to ensure we keep our members safe and notify members accordingly of any changes
Kind Regards
The Papakura Tennis & Squash Executive committee
Tennis News & Events
Club Champs 
Note change of dates
Mixed Doubles 11th & 12th March 
Doubles 24th & 25th March
Singles 18th April
Names to Gary Shorrock 021 02723842
Business House
Starts 19th March
Names to Gary 02102723842
Junior Coaching 
Every Tuesday & Friday after school in Terms 1 & 4. More info contact Matt Jones at coach.matthewjones@gmail.com. 
Meet the tennis pros at
https://mattjonestennis.co.nz/about/
Vets Tennis
Every Friday
Vets tennis each and every Friday from 9:00 to midday. All members and non-members are welcome. Non members court fee of $3 applies.
Midweek Tennis
Year Round
Begins 9:00a.m to midday each and every Wednesday.
Club Night
Every Tuesday Night
Begins 7:00pm to 9:30pm every Tuesday
Adult Coaching
Every Tuesday Evening
Begins 6:30pm to 7:30pm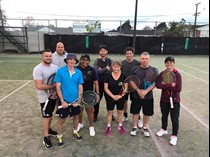 Squash News & Events
Junior Players
Junior hit-up is on Friday night between 5:30-7:30pm. This is a great social event and all are welcome so bring those kids down to burn off some steam and try out the sport.
Junior training is run on Monday afternoons. Contact us for more information.
Club Night
Year Round
Squash club night kicks off at 7:00 p.m each Thursday night. It's never too late, if you are interested in playing please email admin@papakurasquash.co.nz.
Women In Squash
Specific periods during the year
Learn how to play squash through a series of coaching sessions. Coaching includes: grip, forehand and backhand, game strategy, rules and etiquette, basic footwork & tips on improving your game. To find out when the next programme will run contact the club on (09) 299 8021 or email us.
Club Documents
Club Links