Welcome to Papakura Tennis & Squash Club
Tennis News & Events
Club Mixed Doubles Championship
The club's Mixed Doubles championship is on this Wednesday 23rd Feb 2021 
Please find the link below
Interclub Update 22/09/2020
The Senior Summer Interclub 2020/2021 draws are now live on Match Hub.  The link to these draws can be found here. 
We are pleased to advise that Senior Interclub will start has started.
Any contests that were due to be played on Saturday 19 September, will be rescheduled by Tennis Auckland for later in the season.
Team Draws and Information here
Junior Coaching 
More info contact Nic Burnie at
nic.burnie@gmail.com. 
Vets Tennis
Vets tennis each and every Friday from 9:00 to midday. All members and non-members are welcome.
Non members court fee of $5 applies.
Midweek Tennis
Midweek tennis is played year Round
Begins 9:00a.m to midday each and every Wednesday
Club Night
Every Tuesday Night
Begins 7:00pm to 9:30pm every Tuesday
Adult Coaching
More info contact Nic Burnie at
nic.burnie@gmail.com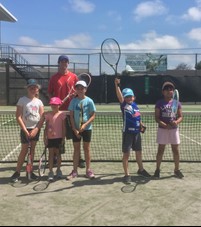 Squash News & Events
Junior Players
Junior hit-up is on Friday night between 5:30-7:30pm. This is a great social event and all are welcome so bring those kids down to burn off some steam and try out the sport.
Junior training is run on Monday afternoons. Contact us for more information.
Club Night
Currently, no club night while in Covid Level 2 
Usually Club Night is Year Round
Squash club night kicks off at 7:00 p.m each Thursday night. It's never too late, if you are interested in playing please email admin@papakurasquash.co.nz.
Women In Squash
Specific periods during the year
Learn how to play squash through a series of coaching sessions. Coaching includes: grip, forehand and backhand, game strategy, rules and etiquette, basic footwork & tips on improving your game. To find out when the next programme will run contact the club on (09) 299 8021 or email us.
Club Documents
Club Links