Welcome to Papakura Tennis & Squash Club
Tennis News & Events
**NOTICE OF CHANGE TO DRAW DATE FOR PAPAKURA TENNIS & SQUASH CLUB**
Please note, covid and lockdown has put a bit of a dampener on the tennis court raffle fundraiser.  Therefore, the club President, Tennis committee and Executive team have decided to postpone the raffle draw date from Sat. 13th November 2021 to Sat. February 5th 2022.  We are hoping that restrictions will ease soon, giving us a bit more time to fundraise. We apologize for any inconvenience caused, thanks to all for your effort and support so far.  Sunny February will be here before we know it, perfect for a scenic helicopter ride.  If you have any questions, please contact Betty Te Ao on 021 347701.
Paul Knight (Club President)
Papakura Tennis & Squash Club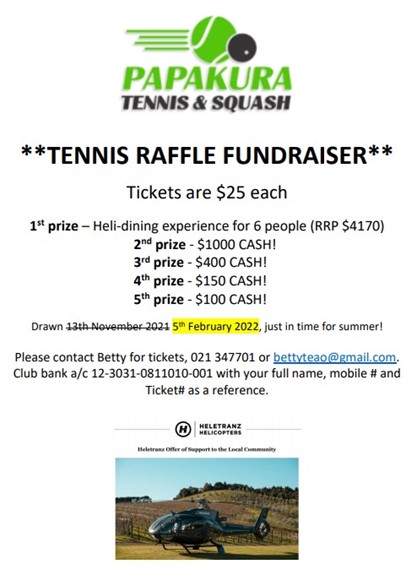 For more information please select the link below
Interclub Update 8/11/2021
Tennis Auckland's view is that Level 3, Step 2 is not conducive to Interclub play.  The gathering limits applying to each venue, Club House closure, and border restrictions are unworkable for Interclub.  They are also mindful that starting any Competitions before Christmas may result in us running Interclub under two systems - the current Alert Level and new Traffic Light framework. Therefore, Tennis Auckland have made the decision to CANCEL ALL PRE-XMAS INTERCLUB PLAY. 
We hope that by February of next year, the proposed Traffic Light system will be in place and we will have a clear framework on how we can run the above Competitions safely.  This also gives Sporting Bodies and Clubs more time to prepare and implement vaccination policies, so that all participants know what is required for Interclub.
Senior Interclub –

 

A short-format Competition is scheduled to start 12 February 2022
Junior Coaching 
More info contact Nic Burnie at
nic.burnie@gmail.com. 
Vets Tennis
Currently Vets Tennis is not being run
Please check for an update when Auckland moves to the next Covid level
Vets tennis is usually played every Friday from 9:00 to midday. All members and non-members are welcome.
Non members court fee of $5 applies.
Midweek Tennis
Midweek tennis is played year Round
Begins 9:00a.m to midday each and every Wednesday
Club Night
Every Tuesday Night
Begins 7:00pm to 9:30pm every Tuesday
Adult Coaching
More info contact Nic Burnie at
nic.burnie@gmail.com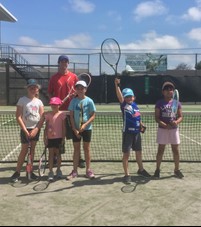 Squash News & Events
Junior Players
Junior hit-up is on Friday night between 5:30-7:30pm. This is a great social event and all are welcome so bring those kids down to burn off some steam and try out the sport.
Junior training is run on Monday afternoons. Contact us for more information.
Club Night
Currently, no club night while in Covid Level 2 
Usually Club Night is Year Round
Squash club night kicks off at 7:00 p.m each Thursday night. It's never too late, if you are interested in playing please email admin@papakurasquash.co.nz.
Women In Squash
Specific periods during the year
Learn how to play squash through a series of coaching sessions. Coaching includes: grip, forehand and backhand, game strategy, rules and etiquette, basic footwork & tips on improving your game. To find out when the next programme will run contact the club on (09) 299 8021 or email us.
Club Documents
Club Links